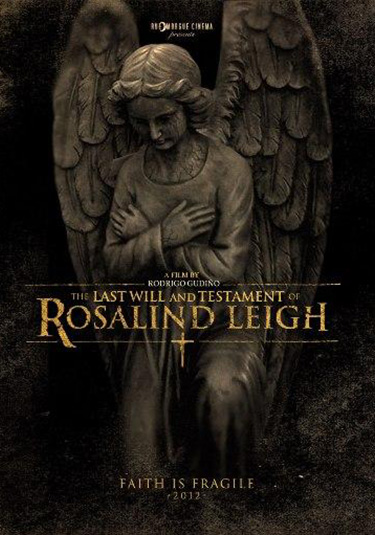 Crítica The Last Will And Testament of Rosalind Leigh, de Rodrigo Gudiño
Título: The Last Will and Testament of Rosalind Leigh. Año: 2012. Duración: 81′ País: Canadá. Director: Rodrigo Gudiño. Guión: Rodrigo Gudiño. Fotografía: Samy Inayeh. Reparto: Aaron Poole, Vanessa Redgrave, Julian Richings, Stephen Eric McIntyre, Charlotte Sullivan, Mitch Markowitz.
Rodrigo Gudiño, cofundador de la revista especializada en cultura fantástica Rue Morgue, se anima a dirigir su primera película, The Last Will and Testament of Rosalind Leigh (2012), tras una intensa carrera como cortometrajista y realizador de videoclips goth. Así,  llega su debut, un título largamente esperado por prensa y público que ha encontrado su eco en el recibimiento por la puerta grande en el pasado Festival de Cine Fantástico de Sitges.
Lamentablemente, tras el visionado de la cinta, surgen serias dudas acerca de la versatilidad de Rodrigo Gudiño como realizador. Si en el terreno del corto se defendía bien y obras como The Facts in the Case of Mr. Hollow (2011) muestran una visión muy original de la historia gótica, la película que nos ocupa, The Last Will and Testament of Rosalind Leigh, basa su potencia visual en la saturación de los planos con objetos de tipo religioso o de manifiesta antigüedad hasta llegar al barroquismo estético, cargante y falazmente misterioso. Esta tónica domina todo el metraje de la película, esquinando elementos atmosféricos decisivos para lo que se pretende que sea una cinta gótica, como son el tratamiento fotográfico o el tempo narrativo.
La fotografía de The Last Will and Testament of Rosalind Leighes casi inexistente. La película se ha rodado con una cámara de vídeo de alta definición, mostrando planos que evitan cualquier confrontación atmosférica entre el protagonista de la película y la supuesta entidad que habita la casa donde está pasando la noche. Asimismo, la lentitudcon la que se desarrollan los acontecimientos y la banda sonora casi monotonal llegan a ser tan insistentes que aburren al público, sin causar sensación de angustia alguna. Estos defectos pesan tanto en la película que cuando sucede el encuentro del protagonista con el ente sobrenatural sólo logra arrancar un tímido gesto de conformidad al espectador.
Los únicos efectos especiales existentes en The Last Will and Testament of Rosalind Leigh son la recreación de una criatura producto de la angustia de Rosalind, finada madre que ha sufrido la soledad más extrema y el abandono por parte de sus hijos, y que no termina de convencer al faltarle el tono atmosférico necesario, que deben ubicar al ente ubicado entre dos mundos, la mente del protagonista y la realidad como presencia corpórea, como materialización del aura angustiada de Rosalind.
El cameo de Rodrigo Gudiño en una de las últimas escenas de la película mediante un primer plano, y el bombo con el que ha sido recibida en España nos hace pensar que el realizador canadiense tiene una inmerecida aureola de estrella, toda vez que basa su ópera prima en un trabajo de escenografía que se demuestra insuficiente y hasta tedioso. El debut de este icono de la cultura goth transatlántica queda en agua de borrajas, quizás por culpa de un presupuesto demasiado ajustado o por la devoción que dicha cultura tiene a lo ajado, a lo antiguo, o a la devoción por  las reliquias religiosas que sugieren un mundo paralelo al nuestro. No está mal pensar que esos elementos pueden funcionar en la pantalla, pero es un error creer que este largometraje, The Last Will and Testament of Rosalind Leigh, aunque sea de 81 minutos, puede sustentarse sólo en eso.